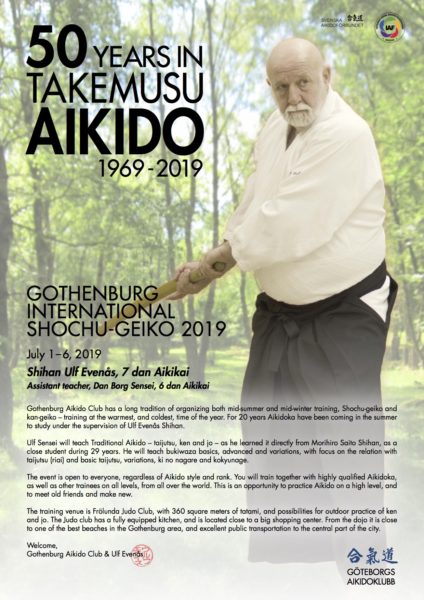 50 years in Takemusu Aikido (1969-2019) will be celebrated at the International Shochu-Geiko this July, 1st–6th, 2019, in Gothenburg, Sweden.
Shihan Ulf Evenås, 7 dan Aikikai, and the assistant teacher Dan Borg Sensei, 6 dan Aikikai will conduct the trainings at this seminar, that is organized by the Gothenburg Aikido Club.
Ulf Sensei will teach Traditional Aikido – taijutsu, ken and jo – as he learned it directly from Morihiro Saito Shihan, as a close student during 29 years. He will teach bukiwaza basics, advanced and variations, with focus on the relation with taijutsu (riai) and basic taijutsu, variations, ki no nagare and kokyunage. There will be four classes a day.
The training venue is Frolunda Judo Club, with 360 square meters of tatami, and possibilities for outdoor practice of ken and jo. The dojo is close to one of the best beaches in the Gothenburg area and there is excellent public transportation to the central part of the city.
Registration is to be made until the 28th of June at info@takemusuaikido.org or +46 705 255569.
You can read more about the event, the club and the teachers here: www.goteborgsaikidoklubb.se.